Sydney Design School and the Circular Design Economy
It's an amazing time to be a designer. Creativity and design thinking are increasingly important and sought after skills as our collective focus turns towards the future of our planet. A future that relies on sustainability, resilience and the recirculation of resources.

Designing for the circular economy
As both designers and global citizens we have to move past the linear model of making, using and disposing. In a circular design economy products don't have a lifespan and instead they're designed so that when they're no longer being used, they'll be repurposed, restored or regenerated.
At Sydney Design School our focus for 2020 is to explore the circular design economy and how it relates to interior design. According to global thought leader the Ellen MacArthur Foundation, the circular economy is based on three principles: Design out waste and pollution; Keep products and materials in use; Regenerate natural systems.
Making the change is no easy task! Designing for the circular economy involves radical changes in traditional thinking and methodology. We want to instil in our students that the way forward involves accountability and responsibility in the spaces they design and the materials and products that they specify. It's incredibly challenging to consider how much waste a project will generate and to find creative solutions to address that. Interior Designers must question how they can be smarter in the use of resources without having to compromise aesthetics. 
Changes in our course content
Victoria Aleporos, Education Manager, and our Director Amanda Grace have been busy amending our 2020 course content to incorporate circular design principles. 
When working on their hotel design project, our Advanced Diploma students are asked to consider sustainability targets. Does the client have a sustainable energy efficient ethos? Can you use sustainable construction materials and circular design principles? How can your design facilitate cutting down on food waste, eliminating plastic, going paperless and minimising water usage? What else can be done and how?
Our Diploma of Interior Design students are tasked with choosing materials and finishes for their retail fit out that are environmentally sustainable and conscious of circular design. Their cafe design project is a pop-up pavilion designed to be part of the Sydney Festival at Carriageworks. Students must consider reuse, recycling and circular design in the construction of the pavilion. What will happen to the materials at the end of the festival?
"As educators of the next generation of Interior Designers and Decorators we have a responsibility to nurture and inspire curiosity and creative, solutions-focused thinking. Despite the challenges – or possibly because of them – it's incredibly exciting to be on the cusp of a new era in interior design." – Amanda Grace, Director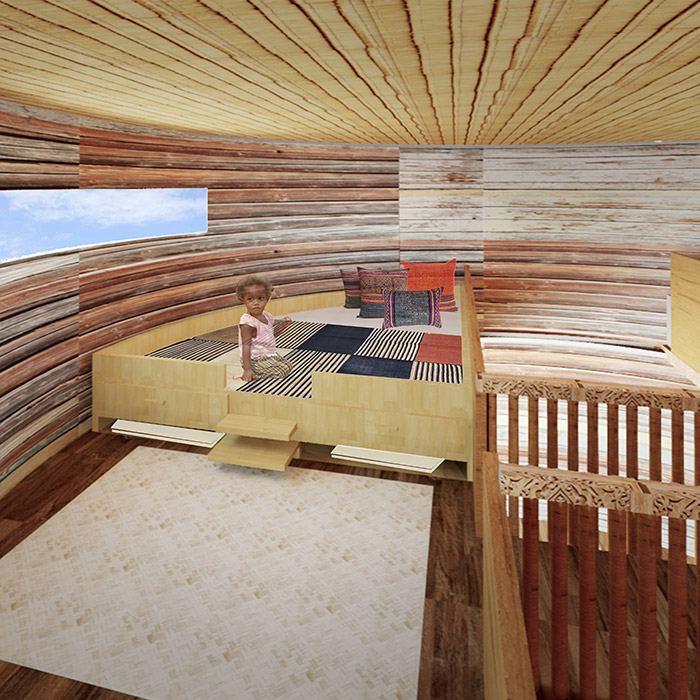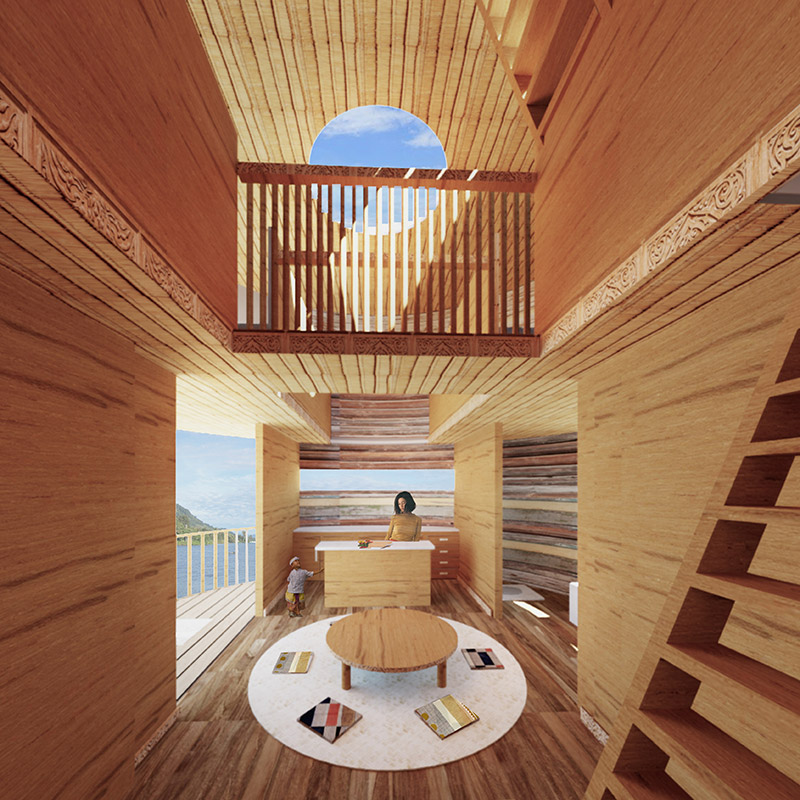 Starting with what we can do now
"We are taking small but measurable incremental steps around our school to recycle, reuse and reduce our waste. We hope to cause a flow on effect with students and the Sydney Design School team when they're at home" says Director, Amanda Grace.
An easy starting point was to swap out all of the light bulbs throughout the School for an eco-friendly option. Secondly we introduced colour coded bins to cater for different recycling needs, ultimately to reduce what we send to landfill. Students are staff are encouraged to think twice before printing anything and to take printed paper home for their children to use. We're working towards banning all single use plastics from the school and have started with drink bottles, straws and takeaway coffee cups. 
Student Alex Johnson's circular living concept
Our Advanced Diploma of Interior Design students are encouraged to be forward thinking problem solvers. For her self-directed graduation project Alex Johnson presented her idea for The Loop Housing (pictured on this page). This circular concept for living focuses on turning waste into opportunity and would be implemented in countries that produce the most plastic waste and also have a housing shortage.⁠⠀
In Alex's practical and beautiful vision for Indonesia, the over-water huts are made by local craftspeople from local, native materials. Sea bins suspended underneath the structures suck in water and trap plastic pollutants. The plastic is then collected by the occupants, sold to a plastic bank, then recycled and sold on to companies to use as a raw material. In addition to sustainable construction, the homes use renewable energy, they collect and store rainwater and feature edible rooftop gardens. A floatation device allows the huts to be relocated when needed – to clear other waterways of plastic and in case of emergency.⁠⠀
Our belief is that small changes made by many people can have a huge impact on the future of our planet. We're not perfect and we have a long way to go, but to quote an ancient Chinese saying 'a journey of a thousand miles begins with a single step'.
The Circular Design Economy – Resources and things that we love
The Ellen MacArthur Foundation is a charity that was launched in 2010 and has since become a global thought leader on the circular economy. The website is full of fantastic information and resources including workshops, podcasts, videos and publications. Check out the Ellen MacArthur Foundation here.
The Circular Design Guide is a wonderful, informative website that introduces concepts and circular design thinking techniques. It includes interviews with designers, worksheets, activities, circular innovation case studies and links to technical tools. Visit the Circular Design Guide here.
WGSN is a valuable design resource that we provide free of charge to students doing our accredited courses. WGSN reports are constantly updated and have included topics such as 'Hospitality Design: Sustainable Focus', 'Materials Trend Concepts', 'The Sustainable Home: Interiors', and 'Packaging: The Sustainable Revolution'. Explore WGSN here.
Green magazine describes itself as "Australia's leading publication for inspirational stories on sustainable design featuring local and international houses, gardens and profiles". The website has a lot of interesting articles as well as product and services listings. The magazine is available as a digital or print subscription – discover it here.
Watch the Speaker Series session 'Design, Waste and the Circular Economy' from Denfair. The panel discussion focussed on how to creatively integrate a closed-loop system into our design and production process. Click here to view the video.
The Design Files has a great post on beautifully designed reusable products to use at home, work and school. It shows just how easy it is to be sustainably minded and replace disposable products without compromising quality or style. Find the curated list here.