We'd love to stay in this hotel designed by Advanced Diploma students
This stunning hotel design not only showcases exceptional talent in conceptual design thinking, planning and visualisation, it's also a wonderful example of effective collaboration.
Towards the end of their course our Advanced Diploma of Interior Design students work collaboratively on a Hotel design brief. To emulate a real world scenario each student goes through the process of applying for the position of their choice on a studio team. They're asked to research the design firm and submit a job application including their portfolio. Our Careers Coach then conducts job interviews and students are put into teams to work together on the project. 
Working collaboratively
The team that designed this amazing hotel consists of Louise Mackay in the Creative role, Drafting manager Tianna Andrews and Celine Layoun, the Visualiser who brought the designs to life in 3D.
"Communication and respect were the most important aspects of working collaboratively," says Louise.
The women agree that they worked very well together and in allowing some overlap in their roles they were able to collaborate and support one another more effectively. Importantly, they knew to save space for each other to put forward ideas and to be able to critically and professionally discuss things without it being personal. 
"Based on the natural progression of a project, all the work is done by one person at a time, so we worked together to ensure that we kept to our schedule with good time management.
"The project would fall behind if we were relying on just one person to do the floor plans for example, because you can't start the 3D visualisations until the floor plans are done. We all pitched in to help and bounced off each other. That dynamic is so important when you're working as a team. We were able to maintain momentum and also make the project feel cohesive, as if it was done by one person," says Tianna.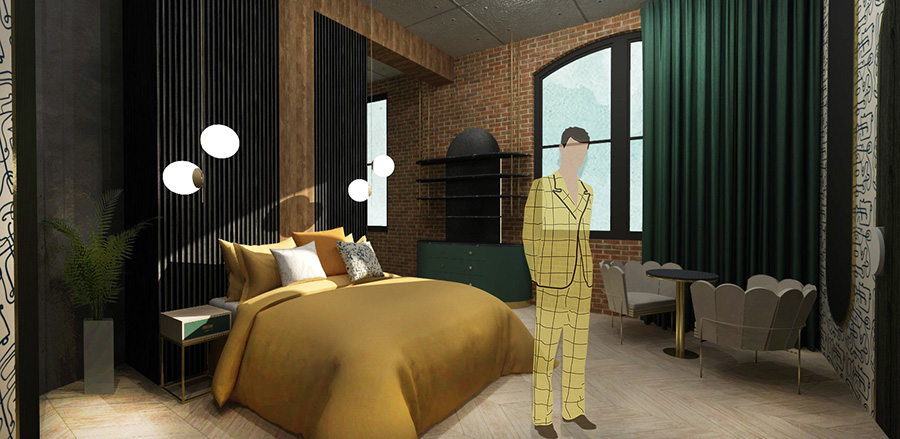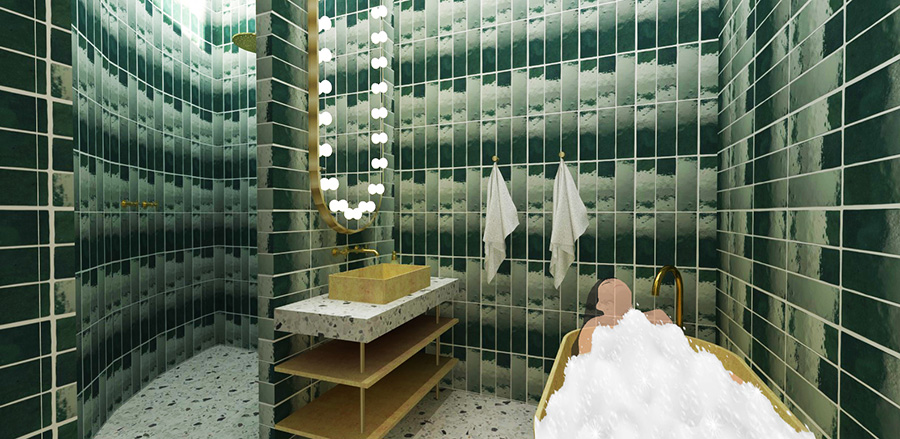 Working on the initial concept together, they brainstormed to come up with ideas. It was Louise's role to then develop the concept direction. Louise told us that initially she was so excited that she couldn't sleep and would come to School brimming with enthusiasm and ideas to discuss with Celine and Tianna. 
Louise's initial vision and moodboards were important guides for the translation of the concept into 2D spatial planning, led by Tianne, and 3D visualisation by Celine. 
"The visualisation process was so much fun, but it involved many, many hours of screen time! I love modelling, attention to detail and creating a vision, which is why I put my hand up for the role.
Being such a big project with many key areas to show, Tianna was able to help create the rooftop visualisations, and I assisted her with the plans during the early stages. Louise then came in and added some Photoshop on top with playful characters and edits to bring the scenes to life in a personalised creative style" explains Celine.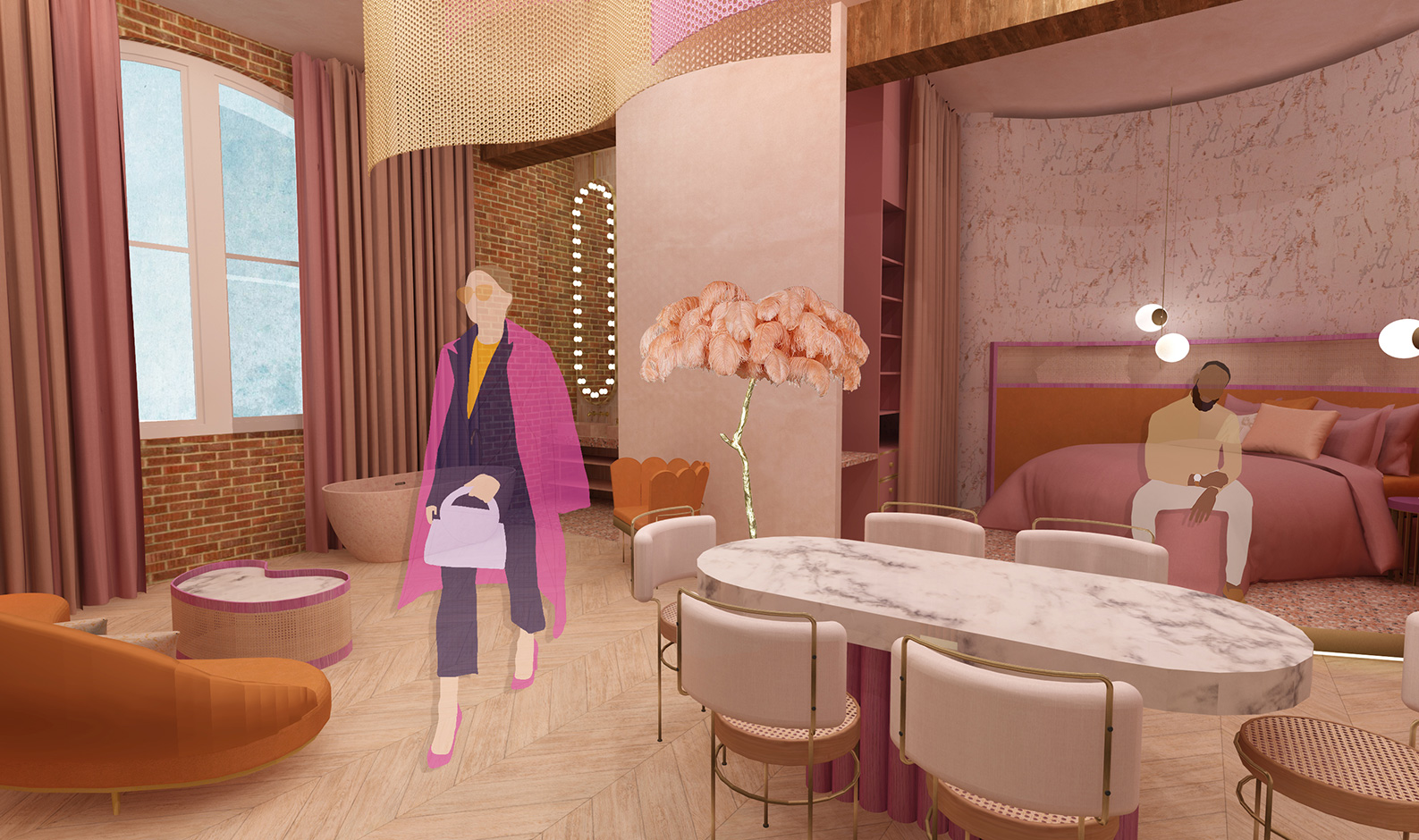 The project: SiR Queen Hotel
The existing SiR brand personifies its venues to create a persona, but in a fairly traditional way. Louise, Tianna and Celine played on the concept and spun it on its head, juxtaposing the traditional 'Sir' with 'Queen' – a connection to the strong LGBTQI culture in Sydney's inner city. The concept is about gender exploration, drag culture and diversity inclusion, resulting in their over-arching theme of Alter Ego.
The SiR Queen Hotel celebrates feminine curves and explores beauty, fashion, performance and culture in a playful way. From the outside, the historic 'masculine' architecture shows only a hint of the riot of colour and fun within. "We wanted to keep the original exterior as 'SiR', while a small pop of colour and neon outside adds intrigue and the realisation that there's something unexpected and exciting inside," says Tianna.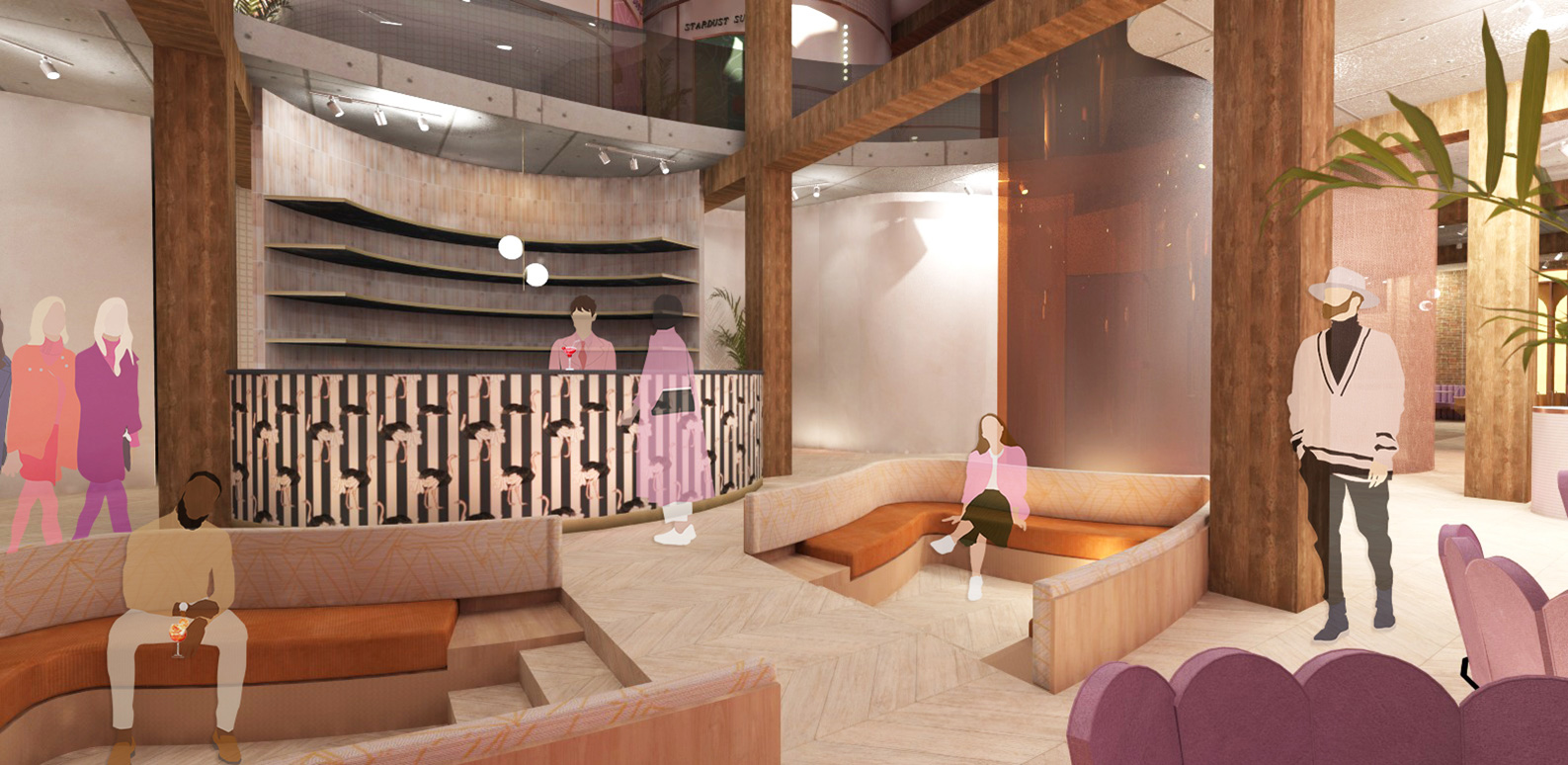 Colour and texture are key elements of the interior schemes. The neutral base colour palette is drawn from the Australian desert with vibrant, high chroma pinks, purple and yellow as contrasts. Rooms have exposed brick walls and inclusions like bold ostrich feather lamps and rich velvet furnishings. The team was inspired by the vibrance and potential layering inherent in perspex and have used it to manipulate space. Layered chain mesh hangs from the ceilings like curtains, echoing the repetition of curves. Both the perspex and the chain mesh are important elements to create a multi-dimensional, dynamic and engaging interior.
"What was really important to us was continually returning to our concept. There were times when external parties gave us feedback and it was easy to become lost. We had to step back to connect and recenter ourselves as a creative team," says Louise.
All three women agreed that it has been their favourite project to date. Despite working hard it was a lot of fun and they're proud of the finished design. We have to agree that they make an awesome team who have created a stunning, strong concept-based design – a hotel that we'd absolutely love to stay in.