Meet an International Student  |  Emily Meehan
Did you know we now welcome students from all over the world? As a CRICOS approved education provider you can live and learn with us in Sydney with a student visa. We're loving the vibrant energy of our growing international community.
Get to know our wonderful American Advanced Diploma student Emily, who is thriving in her studies and her new city.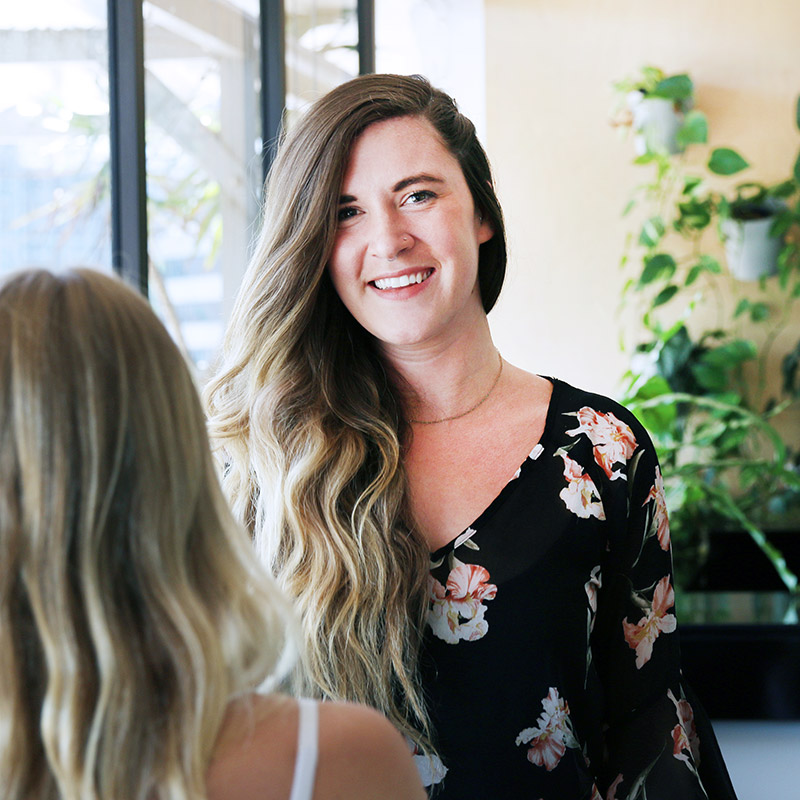 What drew you to interiors and what were you doing previously?
I'm originally from New Jersey, but spent the two and a half years before moving to Australia living in beautiful San Diego, California. In San Diego I worked as a Social Media Manager at a full-service advertising agency, where I was in charge of all content creation, strategy, and reporting for a wide range of clients. While this career fed my creativity in many ways, I always knew I wanted to pursue a more tactile form of design and creation.
I'm a very empathic person, and have always been drawn to interior spaces that evoke strong emotion. I was initially inspired by powerful retail design and merchandising, and found myself analysing why I felt drawn to shop at certain places. Stores like Free People and Anthropologie transport you emotionally, mentally, and physically into the unique world of the brand. There was a certain magic to that power that was very inspiring to me.
Another profound aspect of interior design is the ability to provide an escape for people – whether that means customers, clients, guests, or employees. As someone who loves travelling and exploring new places, I realised that I could harness this same sense of curiosity and wonder and use it to design spaces that could recreate that feeling of being transported to a different world. Providing an escape from the mundane is one of the great powers of design, and is something that I'm excited to continue to explore through my work.
Why did you choose to move to Australia?
When I first lived in San Diego I made a friend who had just moved to California from Sydney. I picked her brain about all things Australia, as I already had it in the back of my mind that it was a place I would love to visit – and potentially live – one day.
Later, when I felt like I wanted a career change, I had the sudden urge to shift my life in some extreme way. I began researching design schools in Australia. Sydney Design School wasn't taking international students at that time, so I settled on the next best option, which was studying online with their partner school, Interior Design Online. Then one exciting morning I woke up to an email from the Sydney Design School team announcing that they were accepting international students on campus!
I immediately knew that my next step was to take the plunge and commit to moving to Australia to study. I had previously spent a few months living in Bali, so I knew a couple of people from Sydney who I reached out to for recommendations on where to live. But other than that I really only had one friend here when I arrived. Luckily things worked out well and I now have an amazing network of friends that have helped make Australia feel like home.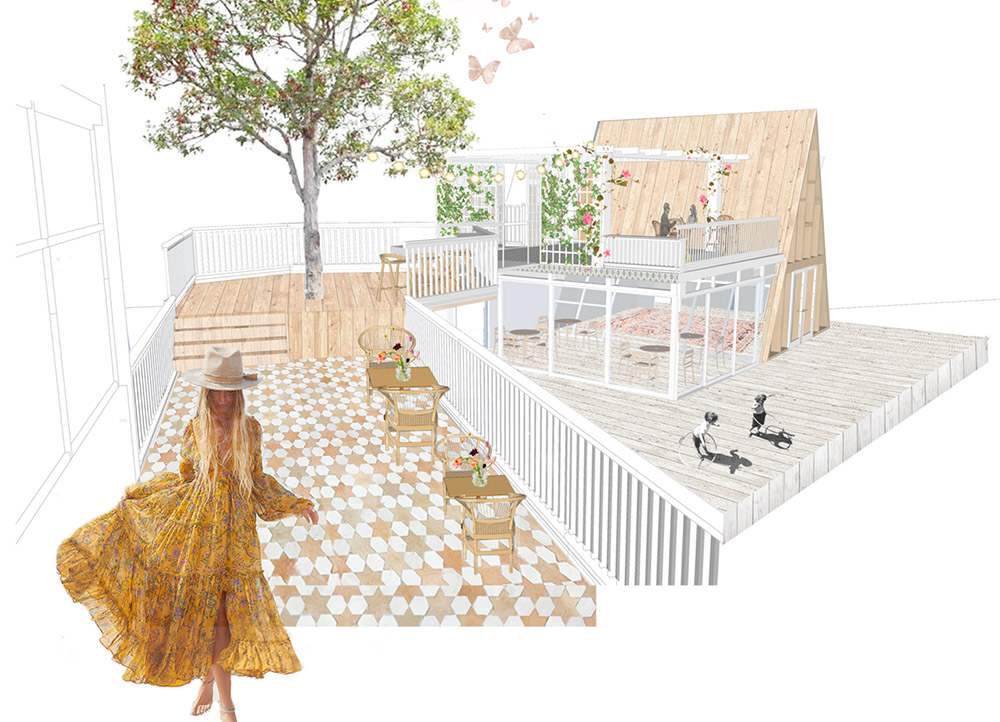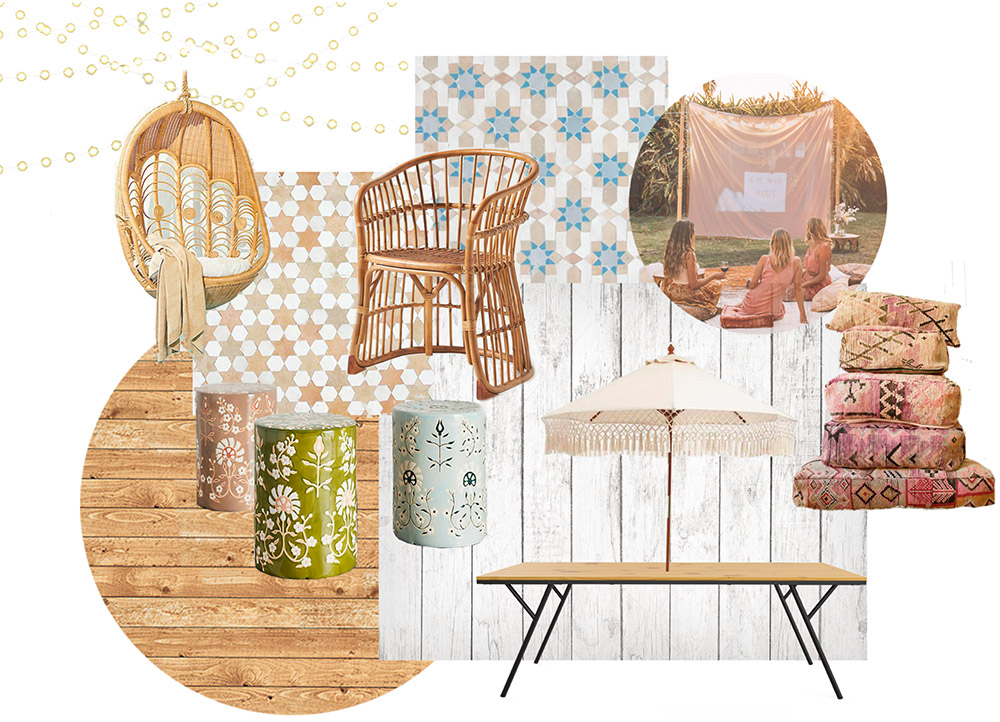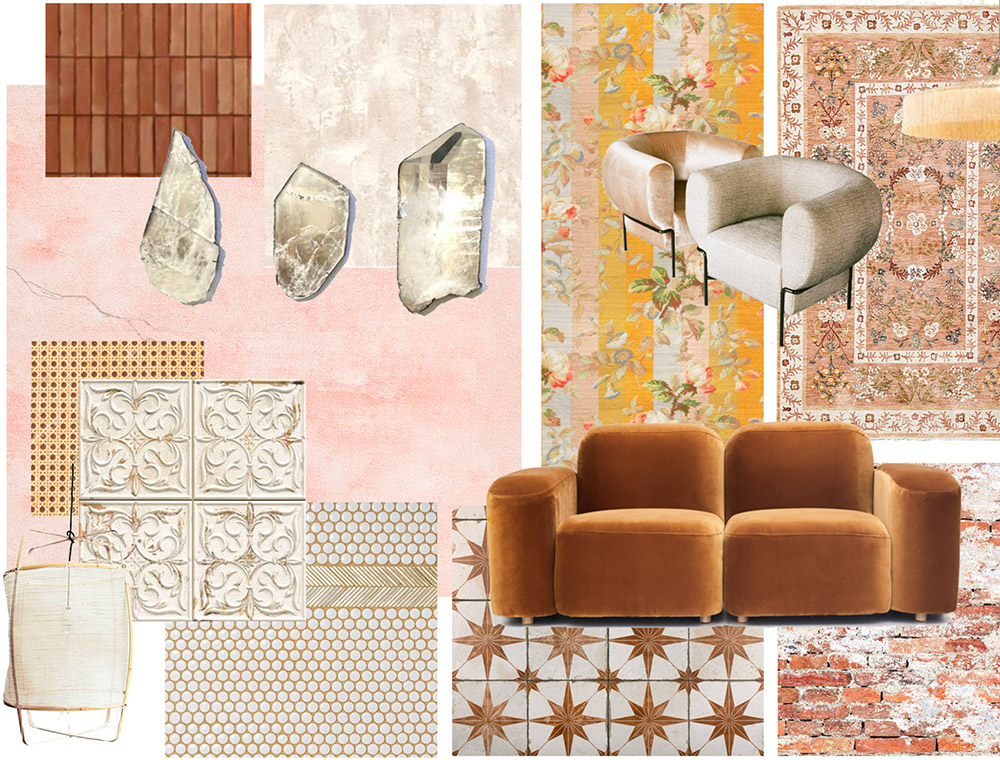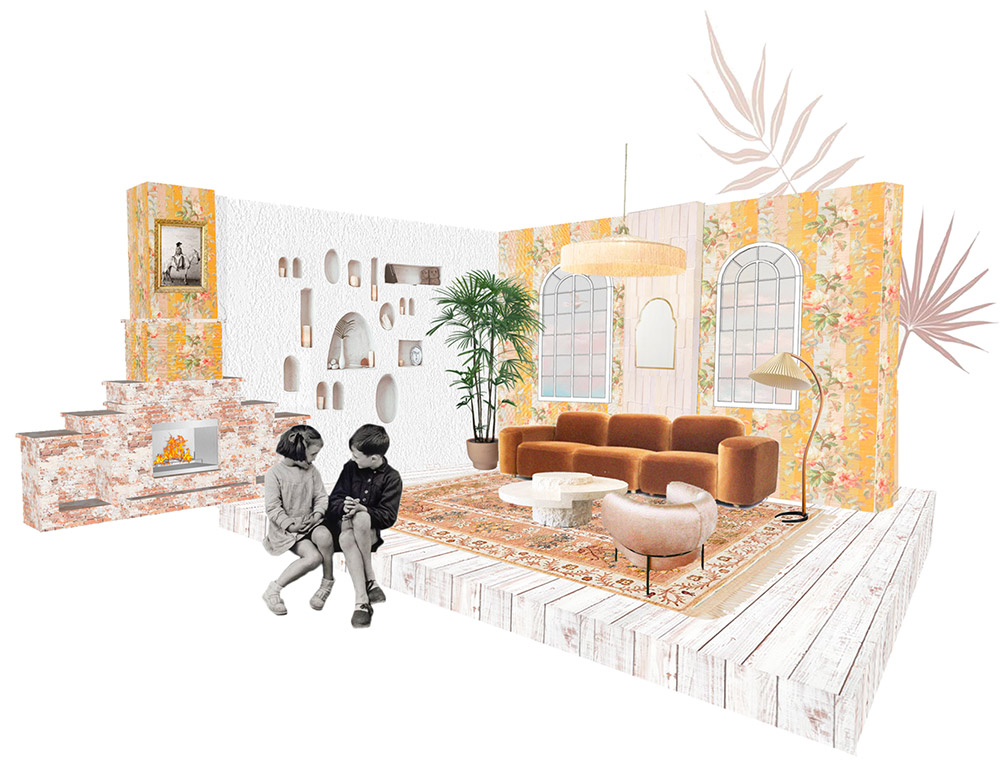 Why Sydney Design School?
As you can imagine, I did extensive research before deciding on which school to study at in Australia. While there were a handful of interior design programs I explored with other schools, once I landed on the Sydney Design School website I knew it was going to be the best fit for me.
Aside from the beautifully designed website and social media accounts that immediately caught my attention, I felt the most connected to the outstanding work being produced. The curriculum is incredibly in depth and varied, allowing students to explore so many different facets of design and truly develop their own unique aesthetic through a broad range of project briefs.
Was it hard to set up home and study in a new country?
As someone who is used to moving around a lot, the transition to studying abroad was quite seamless for me. I have never enjoyed living in one place for too long, so I approached this next chapter with a lot of excitement and curiosity. I hit a few bumps in the road in my first few weeks trying to find the right place to live, but once I got settled in with my second round of housemates in Surry Hills, everything started to fall into place.
As for the logistical aspects of moving abroad, the Sydney Design School team was always just a call or email away to answer any questions I had regarding setting up my tax file number, health insurance, visa, and all of the less glamorous technicalities that come along with moving to a new country.
What are you enjoying most about your course?
I have truly enjoyed every part of this course. When I reflect on the past year, I'll be honest and say that I definitely struggled a bit making the transition to interiors from my previous career. However, I never lost sight of the fact that deep down I knew it was what I was meant to be doing. With a lot of determination, perseverance, and the amazing support of my classmates and Educators, I have been able to push through my insecurities and doubt and really get the most out of my studies.
All of the Educators at Sydney Design School are profoundly knowledgeable and passionate. It's clear that they love what they do and feel strongly about sharing their experiences and knowledge with the students. The small class size also ensures each student receives the support and assistance that they need in order to succeed.
What has been your favourite project?
I felt like things started to click a bit more for me when we transitioned from residential design to commercial. Learning concept development was really eye opening and exciting. Using these tools to help guide my designs and act as a narrative to tell the story of a concept has resulted in some unique and unexpected results.
Taking all of the skills I have acquired over the course of the year and applying them to my final hospitality project was incredibly fulfilling, and I would say it was my favourite project to date. The brief was to redesign a pub in Kangaroo Valley, and our class even had the pleasure of taking a trip down to visit the site. This project felt like an honest expression of my personal design aesthetic but also addressed the key components of our client brief.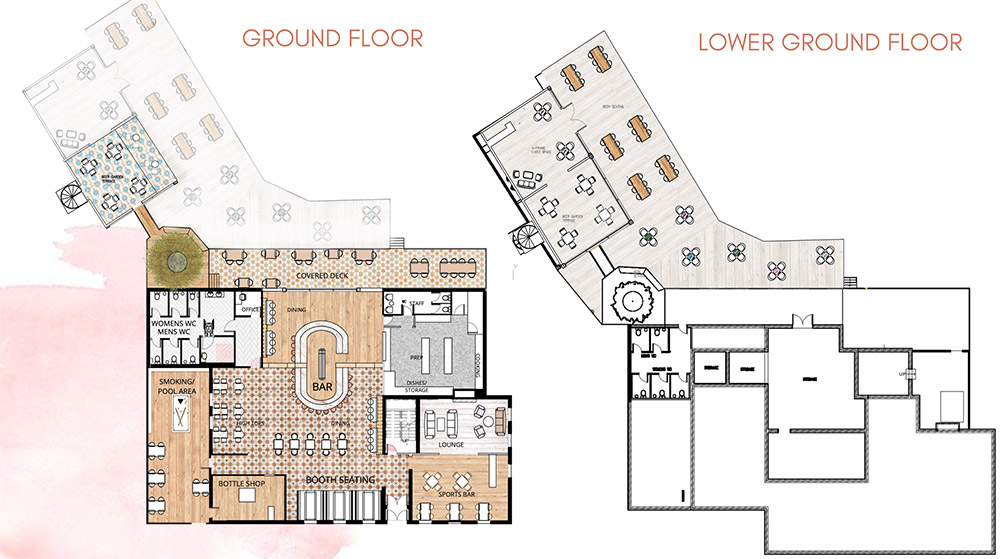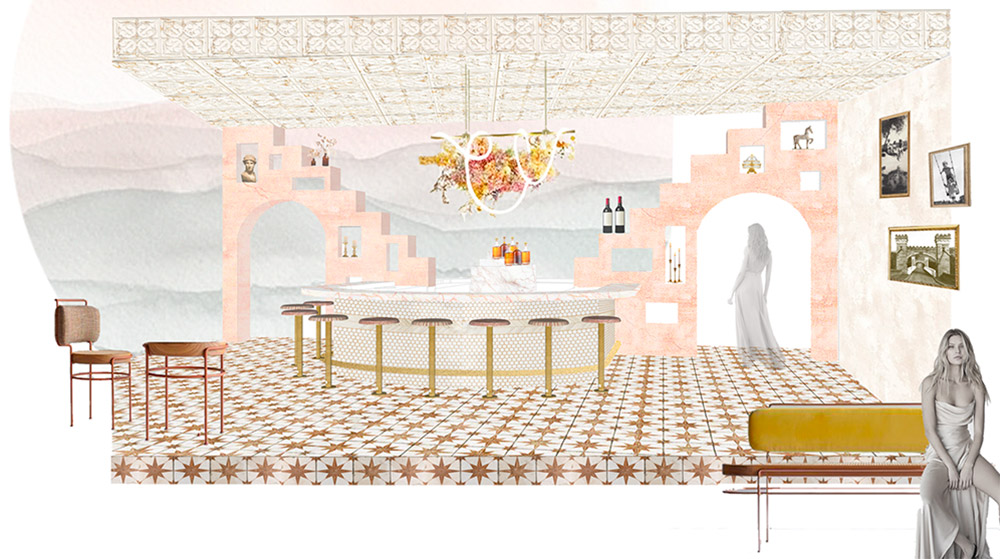 Advice for other international students on coming to Australia to study at SDS?
Don't overthink it, just do it! A lot of people let the fear of loneliness or isolation prevent them from making a big move or stepping outside of their comfort zone, and in turn may miss out on life changing opportunities.
The second you step onto the SDS campus you will feel at home, and the inspiring and supportive community that you are surrounded by every day is enough to make the experience worth it. If you are dedicated to each project and are passionate about your studies, you will undoubtedly succeed and enjoy every second of it.
What do you love most about living here?
Sydney is such a vibrant city and there's really something for everyone here. From the plethora of art galleries and concert venues, to amazing restaurants and bars, and beautiful beaches to top it all off. There's never a dull moment living here.
What I love most is all of the amazing people I've met. My classmates essentially became a little family and I feel super lucky to have had amazing housemates that have become good friends. Having the support of my classmates, friends, and Educators during the crazy time of COVID has really been what has gotten me through. I'm very social and love meeting new people, so it's exciting to know that I have this whole new network of friends on the opposite side of the world to where I'm from.
Unfortunately due to COVID, I haven't been able to explore as much of Australia as I would have liked, but have managed to see some pretty incredible places like Byron Bay which I absolutely loved. I went camping in Jervis Bay and have gone on some weekend trips to nearby destinations like Kangaroo Valley. While there is much more I'd love to explore, I'm just feeling grateful to be in Sydney during this crazy time.
You originally enrolled in the Diploma course then continued to the Advanced Diploma.
Yes! Once I completed the Diploma course, I decided to stay in Australia for another 6 months to continue my studies with the Advanced Diploma. I learned more in the first year than I could have ever imagined, so I was really excited to apply all of the skills to more large scale projects in the Advanced Diploma.
One thing that really drew me to the Advanced Diploma was the idea of being able to develop my own design brief through the Design Specialisation project that's part of the course. I was so inspired by past students' projects, and the idea of being able to let my imagination run wild with my own personal brief was something I found really exciting.
What are your career plans and dreams?
My ultimate goal is to work for a boutique design agency that specialises in hospitality and retail design. Aside from my interest in retail design from a young age, I've also always been drawn to unique hospitality destinations – whether they were restaurants and cafes in New York City, or treehouse hostels and boutique hotels in Costa Rica and Bali. I'm very interested in creating immersive experiences that foster connection and evoke a sense of wonder. I've always thought it would be amazing to design a boutique hotel on a tropical island… now I'm really dreaming big!
Images on this page are Emily's Kangaroo Valley hospitality project: The Friendly Inn.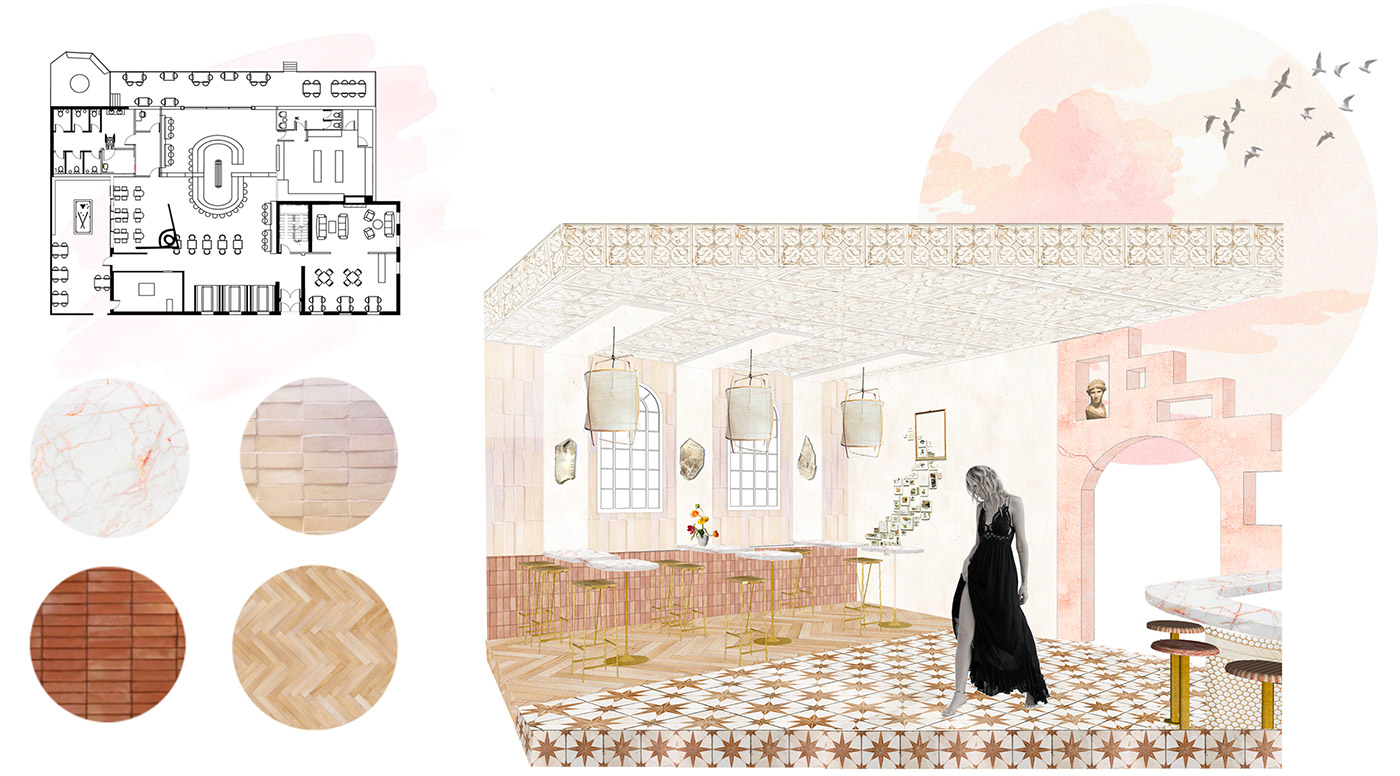 Biggest misconception about Australia?
That everyone who lives here is a professional surfer.
Favourite place to hang out?
During the day (weather permitting) I love hanging out at Gordon's Bay. At night, I love going out to restaurants and bars in my neighbourhood of Newtown and Enmore.
One touristy thing that's worth doing?
Checking out the Glebe Markets! So many unique vendors and great thrift finds.
Favourite discovery?
It's definitely not a secret spot, but I love Byron Bay.
The interior trend I'm loving right now…
I hate to admit it but I'm a sucker for dusty pink and statement arches (if you couldn't tell from my hospitality project)!
Where do you find inspiration?
I derive a lot of my visual inspiration from written words. Poetry and musical lyrics that evoke strong emotion have inspired a lot of my designs.
You can connect with Emily on Instagram @designedbyem_