Spotlight  |  Advanced Diploma of Interior Design
Graduating with an Advanced Diploma of Interior Design will help you thrive creatively and professionally, opening up more opportunities for a successful career.
We foster exploration, innovation and professional development in this intensive course. Graduates are self motivated collaborative team members and problem solvers who are confident conceptual and practical thinkers.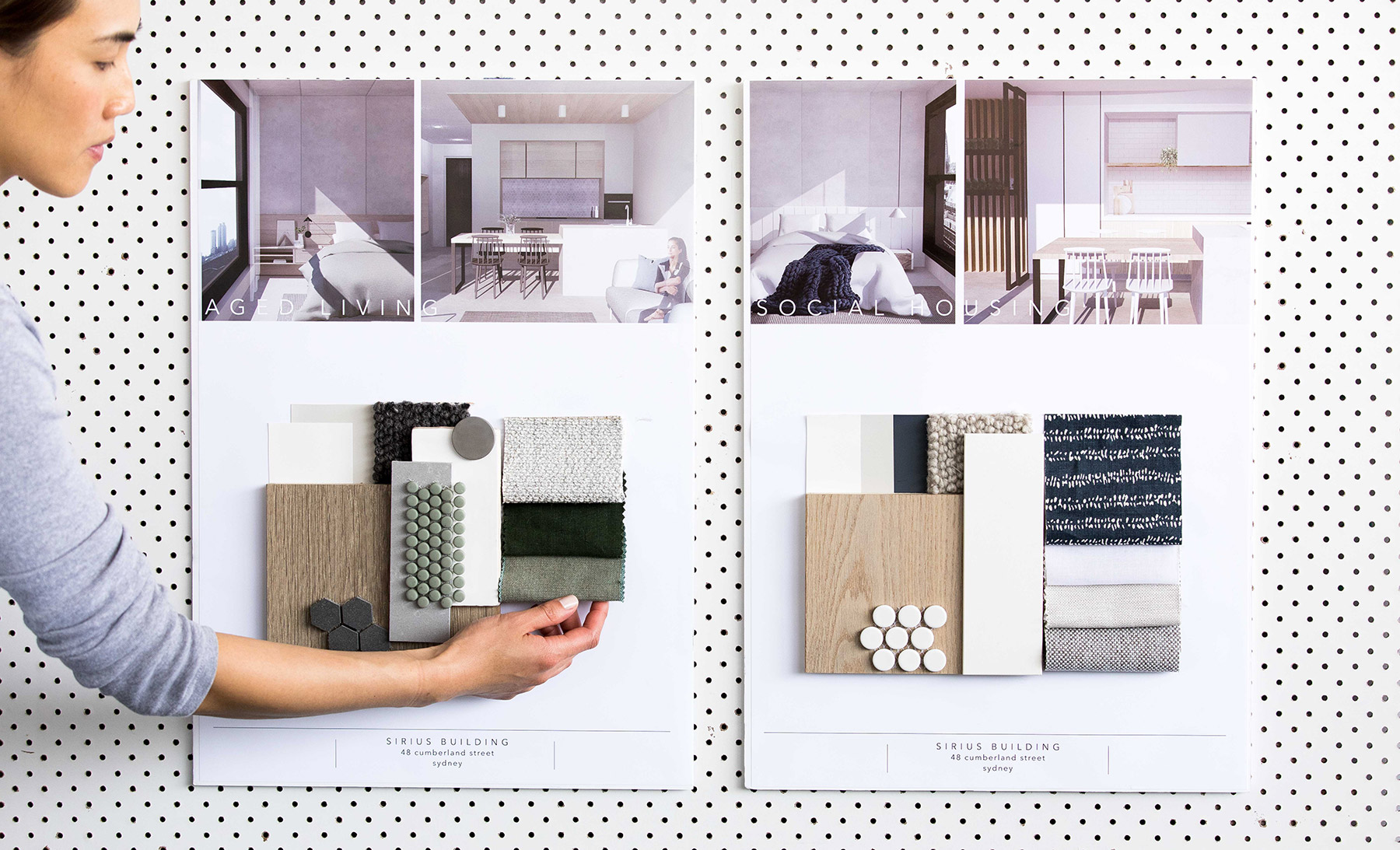 Consolidating skills
The Advanced Diploma of Interior Design builds on the Diploma course. Students develop a strategic and critically engaged approach to interior design and design management, together with advanced skills in visual communication, research and documentation. Briefs are more complex, involving challenging spatial organisation, innovative materiality and experiential design.
Gaining confidence
In addition to developing creative and conceptual thinking we teach design administration and management throughout all projects in this course.
You'll undertake a strengths profiling assessment and learn to be confident and skilled when presenting yourself and your projects. We teach you how to self-manage projects and develop professional processes to meet deadlines with polished presentations. Enter the industry as a prepared and confident designer who can manage their own work.
Real world education
Students are engaged in a learning environment that emulates a working studio. Effective collaboration is key to producing new ideas and innovative solutions in the interiors industry and our students learn this skill working in a small team for their hotel project. They apply and interview for a specific role in the team with feedback from our Career Coach.
Real world briefs in the Advanced Diploma are exciting and complex, requiring deeper design insight and knowledge. Students are able to extend their documentation and technical skills – an important requisite for Commercial Interior Designers.
Industry connections
We're proud of our genuine long term relationships with industry that translate into exciting mentors, internships and ultimately jobs. We have a dedicated Career Coach who works with students to ensure that they have a polished resume and portfolio, and every opportunity to thrive in a job that they love.
"The Advanced Diploma is for you if you want to study in a small studio environment, take on substantial projects and explore an area of design specialisation." – Amanda Grace, Director
Above: Part of the stunning hotel presentation designed by students Teagan Fordred, Eliza Maloney and Sally Rodzen. The attention to detail in creating this beautiful hotel experience goes beyond designing amazing interiors including floor plans, material selection, furnishing, styling and 3D renders. It also encompasses an immersive conceptual experience including everything from a pre-check in questionnaire and personalised welcome package to branding and marketing material. ⁠⠀
Areas of study
The Advanced Diploma course begins with residential interiors followed by  a series of exciting and challenging commercial interiors projects.
Furniture Design |  Students are encouraged to develop their creative curiosity and problem solving skills in different ways. Exploring a concept and designing an innovative piece of furniture is one way we nurture this.
Retail Design |  This rapidly changing area of practice requires our Educators teach at the forefront of the latest design thinking. Students' understanding of retail design is expanded from their learnings in the Diploma course. The brief involves designing a concept for a particular retailer which reflects the brand, caters for their demographic and fits within a specific space. The comprehensive documentation package requirement of this project is a strong portfolio asset.
Hotel Design |  The hotel project is complex, involving multi levels and different areas from reception to restaurants, bars and guest suites. There's an expectation of a high standard of presentation and design visualisation.
Education Design |  With new schools and new ways of learning this is a booming area of the interiors industry. This in depth, comprehensive project introduces a new design discipline and an opportunity to consolidate Revit software skills.
Design Specialisation & Mentoring
An important and compelling feature of the Advanced Diploma is self directed Design Specialisation. For the final project prior to graduation you're given the opportunity to create your own brief specific to the area of interior design that you want to work in. It's the ideal way to showcase your passion, talent and skills to potential employers.
Specialisation goes beyond the chosen industry sector to encompass other interests that could include the circular design economy or furniture design.
Throughout the Design Specialisation process a hand picked industry specialist guides and mentors each student to realise their full potential. With weekly meetings they're able to gain invaluable feedback and insight to develop and refine all aspects of the project. A greater understanding of their chosen area of the industry is an added benefit.
Advanced Diploma students graduate as conceptual creative thinkers with a broad skill base and a specialist area of interest. Your portfolio will be tailored to reflect your professional passions and strengths, and optmise career opportunities.
"I love mentoring the Advanced Diploma students on their final project, Design Specialisation. They're able to design their dream project and showcase their creativity, design process and skill set. During the final six months of their formal training I get to witness these designers find their voice and confidence as they go out into the world to start their career." – Diane Fernandes, Educator
Above: Darren Scott designed this mixed use hospitality venue at Rockaway Farm. His concept is based on the experience of reconnecting. Adaptive, unique spaces suit different weather and event types and accommodation requirements.
"The day after graduation I started an internship at Tom Mark Henry, which led to them offering me a permanent position. Being immersed in a design studio environment, using the skills I learnt at Sydney Design School and learning from incredible professionals who are brilliant at what they do is a dream! I want to continue to learn and grow as much as I possibly can." – Advanced Diploma graduate Jed Murphy
Want to know more?
You can find specific information including units of study, entry requirements and course fees for the Advanced Diploma of Interior Design here.