Sydney Design School has four finalists in the 2020 Dulux Colour Awards
We're proud that our students consistently produce a high standard of work. The additional validation of their passion and talent – and of our Educators' dedication – comes when they excel in national and international awards.
This year we're celebrating our four finalists in the student section of the 2020 Dulux Colour Awards. Congratulations to Jade Crowther, Chelsea Ernst, Tia Heard and Louise Mackay. Eleven finalists are chosen from universities and tertiary institutions Australia-wide, so to have four of our Diploma students on the shortlist is a fantastic achievement.
Jade Crowther – The Alcove
Jade on her warehouse to restaurant conversion concept:
"The brief was to convert a two story warehouse in Alexandria into a restaurant that was focused on local ingredients and a low-waste ethos. I wanted to create a space that was cosy, comfortable and homely which would allow people to connect with each other on a personal and emotional level so I focused on 3 core elements: soft curves, organic materials and warm, earthy colours.
Dulux's Henna Red is the hero colour throughout and paired with warm soft lighting it evokes the warm feeling of sitting around a fireplace. The earthy softness of the red has an organic feel which complements other elements like Dulux's specialty finish Venetian Plaster in Raw Concrete on the walls. This unique finish turns two stories of plain brick wall into a crafted feature that feels rough and earthy."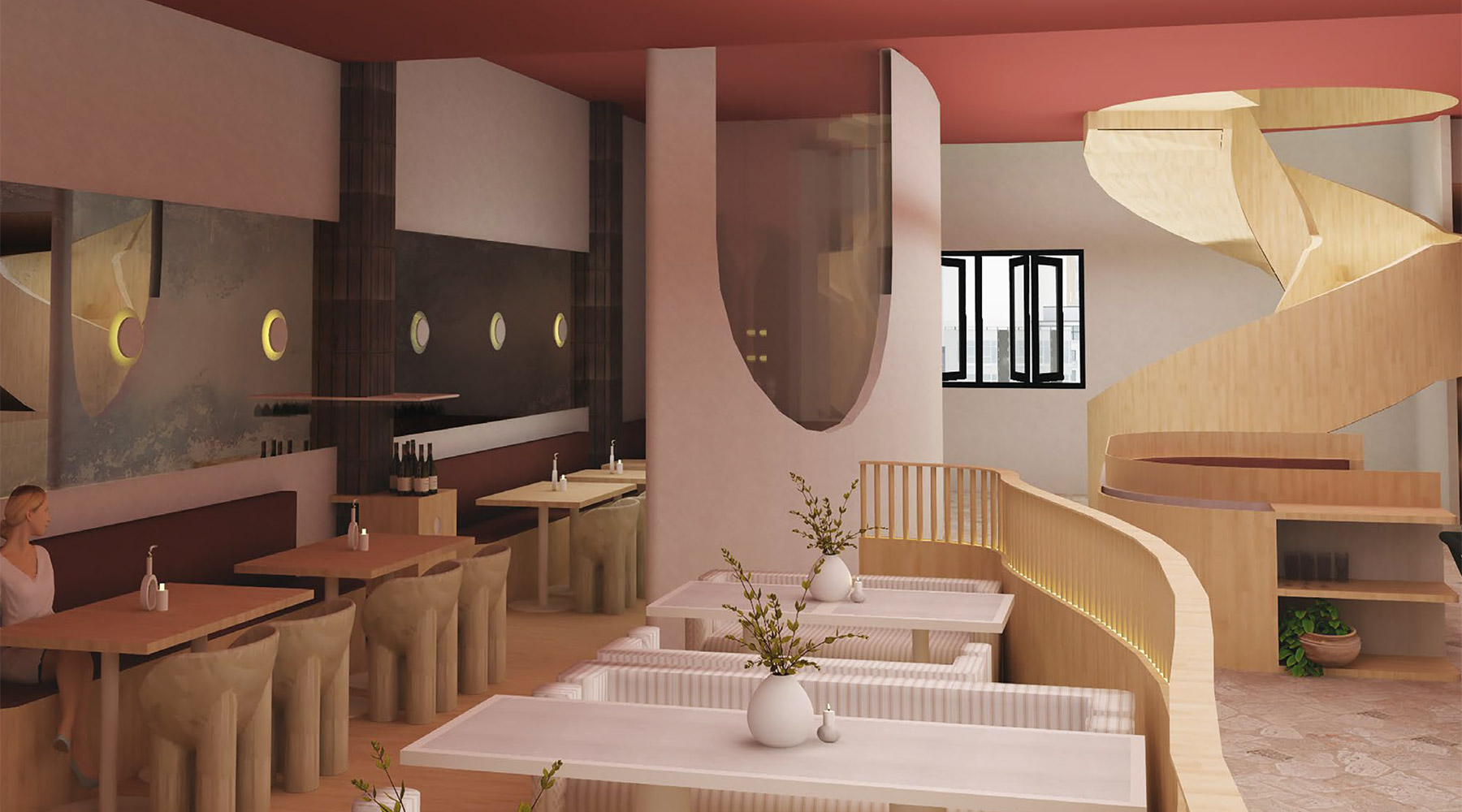 Louise Mackay – Ascend
Louise on her concept for a pop-up cafe in collaboration with Sydney Festival and Carriageworks Sydney:
"Ascend to joy in this pop-up cafe – an inspiring collective of colour, art and amazing architectural cakes.
Inspired by artist Jean Michel Basquiat, customers are invited to indulge in this interactive, innovative concept cafe to engage in cultural commentary as part of the Sydney Festival. The design is colourful and vibrantly contemporary – a high contrast to the industrial host of the Carriageworks. Guests are invited to graffiti the walls of Ascend with messages of joy. Over time the concept cafe will evolve – a creation of everyone who visits Ascend."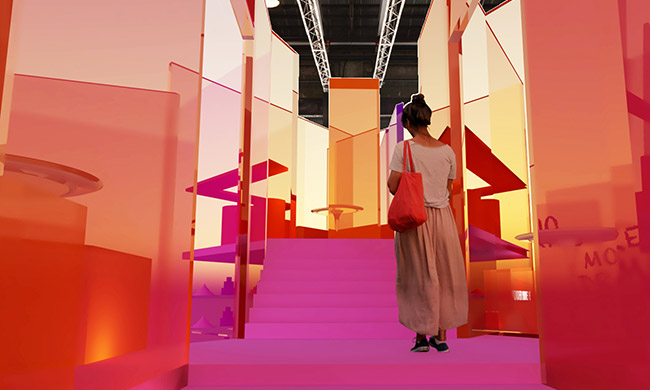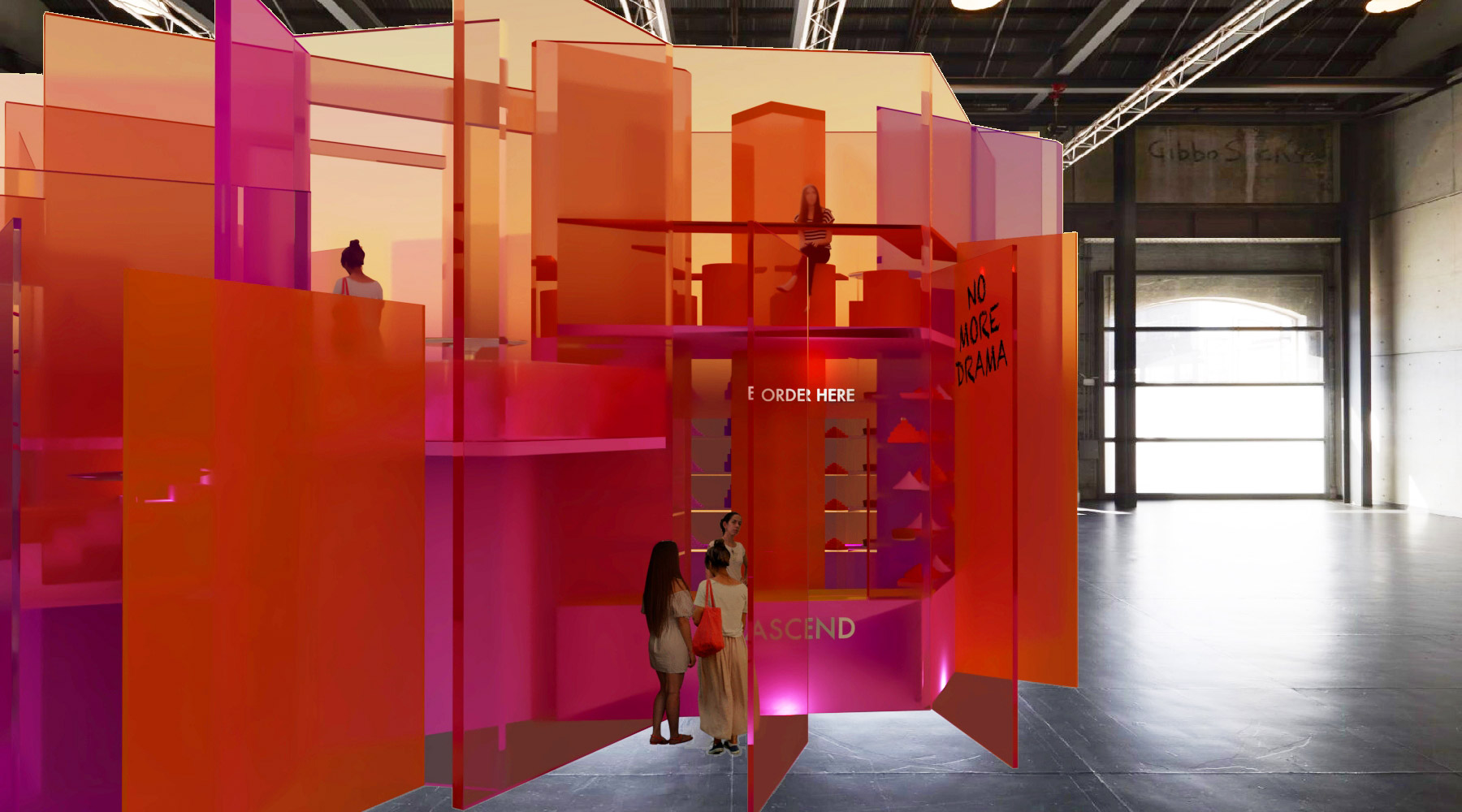 Chelsea Ernst – 'Grow Your Own' Cafe Pavilion
Chelsea on her conceptual design solution for a Cafe Pavilion in Carriageworks, Sydney:
"Based around the concept of 'Adaptation', my goal was to achieve a space that could remind us of issues around consumption and sustainability and help us adapt and reconnect to a more simple and meaningful lifestyle. Inspired by Dulux's 2020 Theme of 'Essence', this Juice Bar serves the dual purpose of a community garden, creating a space in which we can escape our busy lives and revitalise the relationships between ourselves, the community and nature.
To achieve a space of escapism that is both calm and empowering, I chose playful colours which are muted down and easy on the eye. The colour palette suits the branding; clean, simple and serene, yet warm and cocooning. Whites unite with hints of greyed lavenders, blush, greens and blues which inspire us to reconnect with values of love, nurture, wealth, peace and wisdom – the essence of what makes us human."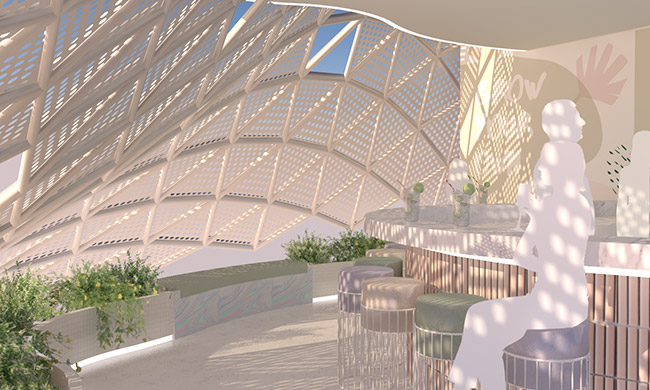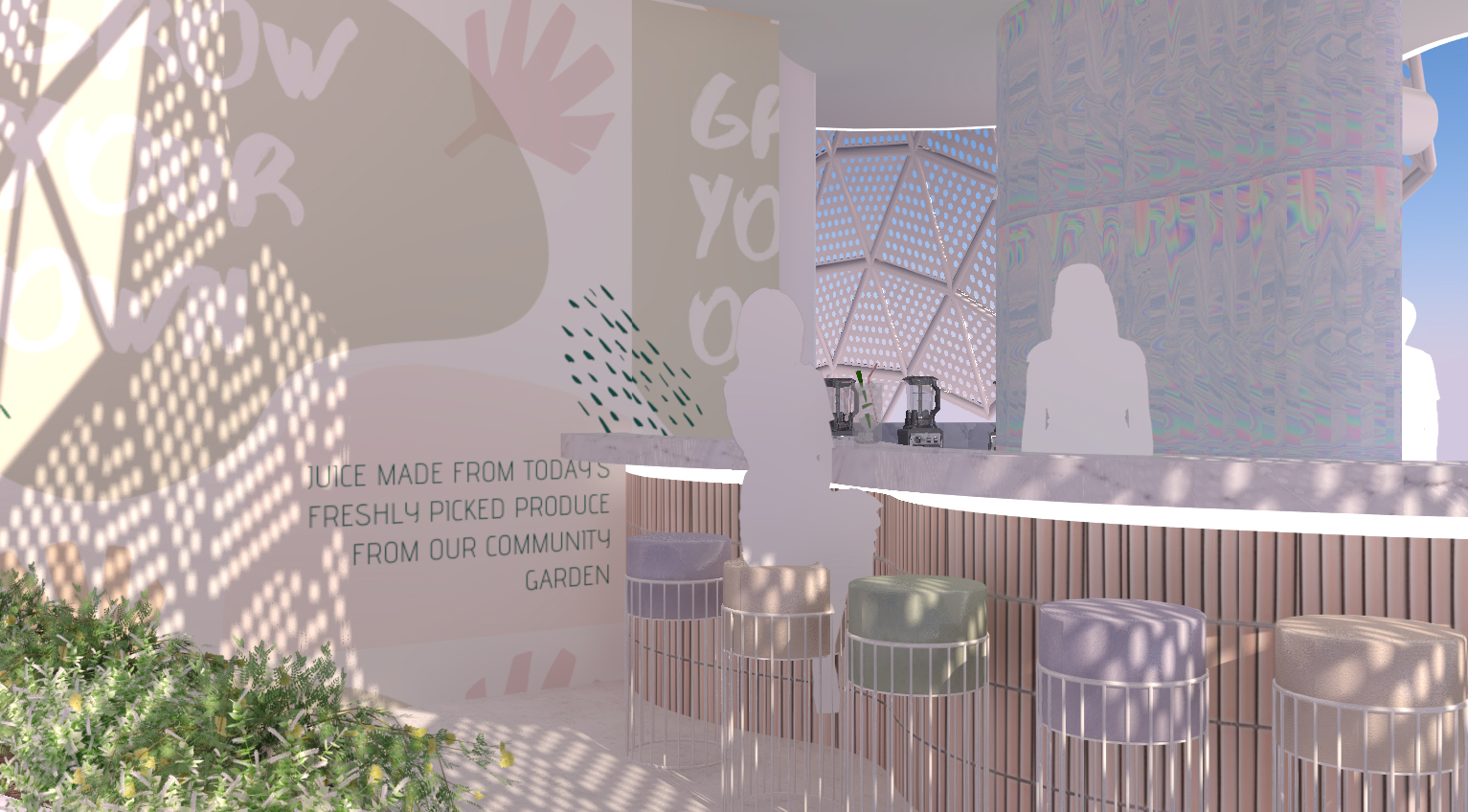 Tia Heard – Dream Lab Food Incubator
Tia on her design solution for a talent incubator restaurant within Work Inc, a co-working space in Sydney's Lavender Bay:
"I designed a space for the incubator program which gives new chefs the opportunity to test their ideas and then implement them in the restaurant for a wide variety of customers.
My concept is based on 'A Dream'. For the chefs the dream is a sense of achieving goals and creating the restaurant they've always aspired to open and for patrons it's the sense of reverie created by the restaurant design and experience.
Dusty pastels and warm sunset hues create a welcoming and moody space while false stairways and holographic surfaces inspired by surrealist art reinforce the idea of being somewhere that anything can happen. Warm, low lighting creates a soft ambience and colours inspired by a summer sunset instil a dreamy ambience."