Celebrating 7 students at the International Design Awards 2020
"The standard of work that our students produce continues to blow us away and I'm thrilled to congratulate seven of our students who this month were recognised on the international stage. Our Educators are passionate about conceptual design and providing an exceptional learning experience – and our award winning students are a wonderful testament to that."
Amanda Grace, Sydney Design School Director
The International Design Awards were established in 2007 to 'recognise, celebrate and promote legendary design visionaries and to uncover emerging talent from around the world'. Visit their site here.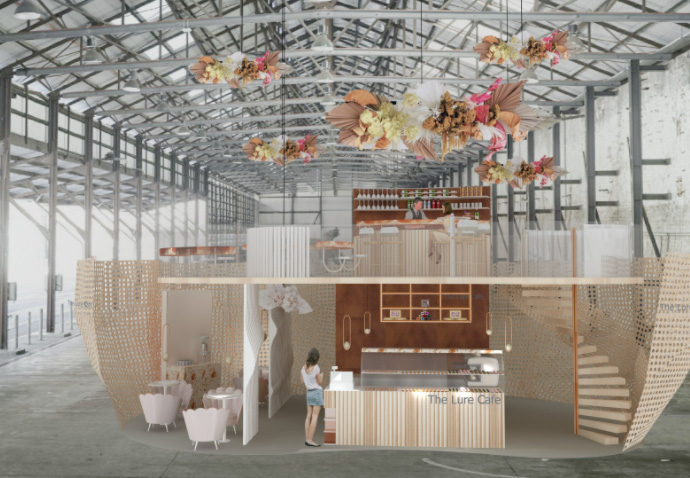 Victoria Saliakouras  / Bronze in Interior Design – Museum, Exhibits, Pavilions and Exhibitions
Diploma of Interior Design student Victoria on her project: "The brief was to design a pop up Café Pavilion with a dual purpose [to encourage] visitors to interact with the space but also to reach new heights in material innovation.
"Exploring human interaction, the concept Utopia – an imagined place where everyone is happy – evokes feelings of joy and euphoria through the use of large preserved flower installations. French patisserie by day and bar by night, The Lure Café offers the finest quality pastries and desserts to dine-in or take-away. The [design of the] Lure Café originates from the meaning of the word Lure, to attract or entice."
Louise Mackay / Bronze in Interior Design – Conceptual
Louise describes her pop-up cafe design, completed in her Diploma course: "Ascend is a colourful and contemporary conceptual pop-up cafe in collaboration with Sydney Festival – a high contrast to the industrial host of the Carriageworks. A collection of high-chroma hues of pink, orange and purple create a vibrant space, [which is an exploration of] the transparent yet vibrant qualities of acrylic."
"Inspired by muse Jean-Michel Basquiat, the concept of the cafe takes on the unconstrained cultural commentary that the artist is known for. Customers are invited to interact and engage in cultural commentary by graffitiing messages of joy on the walls of the cafe."
Louise's design for Ascend was also the student section winner of the Dulux Colour Award 2020. See more of the project here.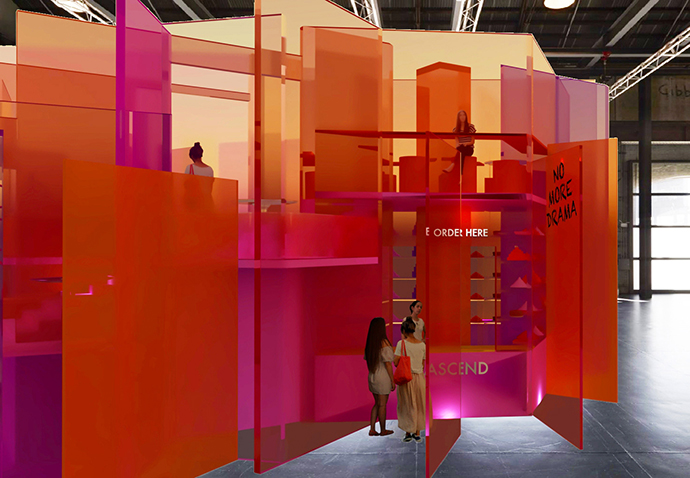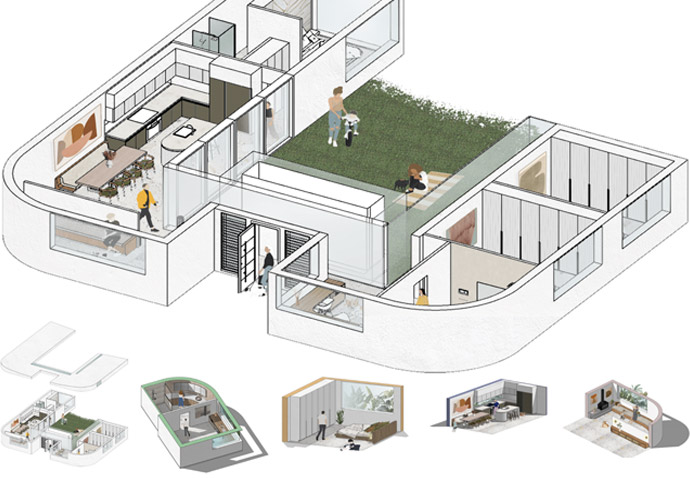 Eliza Maloney / Honorable Mention
Eliza shares her thinking behind The Vessel, a brand new concept and look for sustainable prefabricated housing: "It's flexible and unique as it grows with individuals constantly accommodating their growing needs. Designed to be reconfigured in numerous ways to suit various blocks, it also has the option to be as off the grid as possible, allowing for it to be implemented in natural disaster areas such as bush fire regions.
"This housing model is what is needed to combat affordability when entering the market, sustainability in terms of construction waste, whilst still being able to make it your home."
Catherine Pimentel / Honorable Mention
Diploma student Catherine on her retail project: "This is a fictitious retail store designed for Japanese Fashion Designer, Tsumori Chisato. Inspiration for this project was taken from one of her garments from her Spring/Summer 2017 collection.
"Chisato's creations are bold, fun and dynamic. The store was designed to be unassuming from the exterior with a somewhat obscured entrance corridor which creates a sense of mystery & intrigue. The customer is rewarded with a dramatic scene upon entering, much like the discovery of a secret garden by a child. It is magical and beckons you to explore it."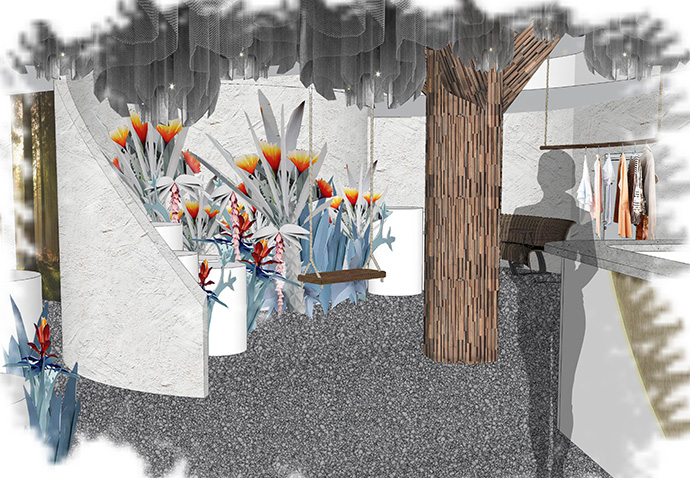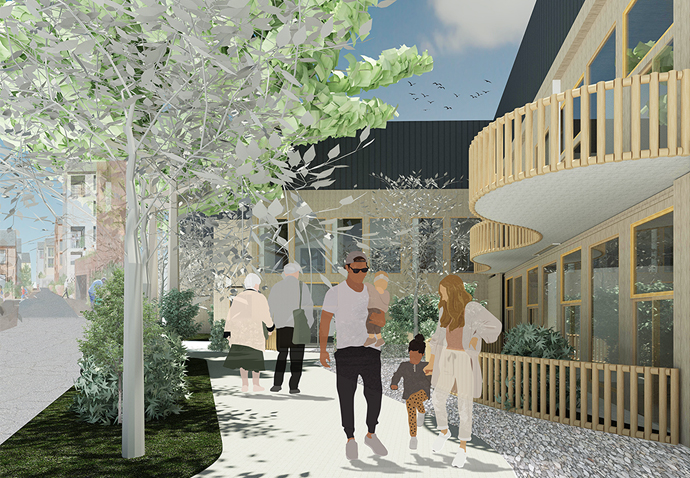 Ryan McGregor and Louise Mackay / Honorable Mention
Advanced Diploma students Ryan and Louise share their design thinking: "Our design ethos for this space is to challenge the idea of what an intergenerational housing space could be in response to the ever-growing demand for aged care and early learning services in Australia."
"Through wisdom, wonder and magic, this venue will become a catalyst for positive change in the aged care sector following the tumultuous times of the Royal Commission. We were inspired by the gifts that our residents bring – wisdom, stories, imagination and wonder to develop our concept: Wisdom Begins in Wonder. Our design was built in Revit and inspired by the whimsy of the woodland wonderlands."
Angela Forman / Honorable Mention
Angela designed this space in response to the impact of COVID on the retail sector. Her design concept is unique and innovative, providing a No Touch, ensured-safety, socially distanced experience.
The store floor plan allows for circulatory flow and the direction of shoppers. The use of a structure sensor scanner creates digital 3D models of customers, which when used with augmented reality technology enables customers to virtually try on clothes. This eliminates the need to touch and try on products in store. The project concept was inspired by the Spring Summer 2020 collection of Tsumori Chisato – fashion meets interior design.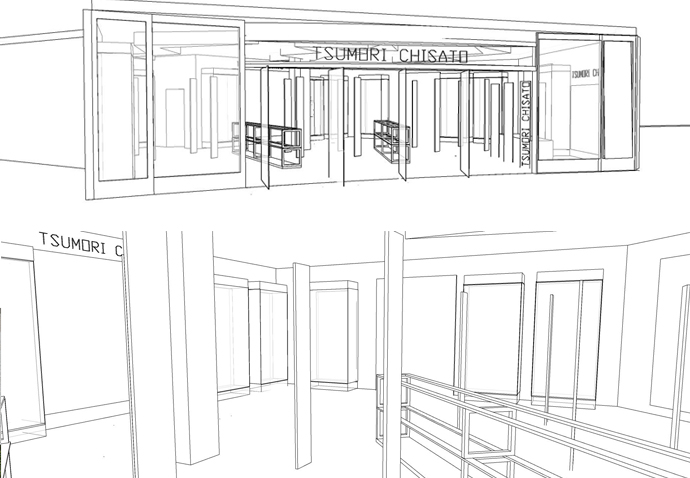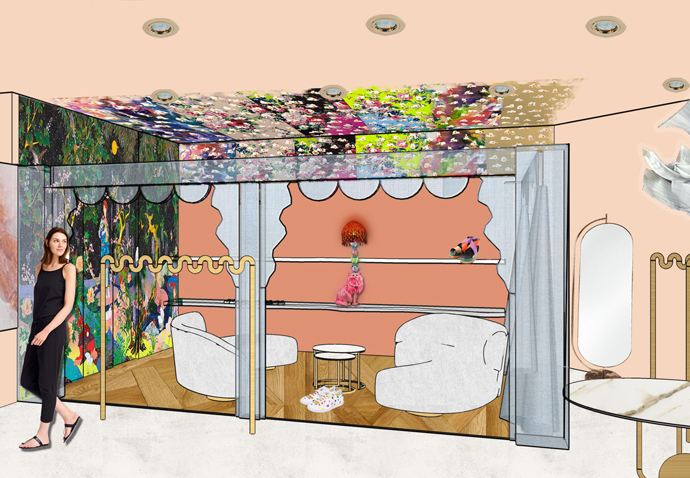 Virginie Aubard / Honorable Mention
Virginie describes her retail store concept: "The brief was to create a unique in-store experience to allow Australian customers to discover and explore Tsumori Chisato's playful, elegant and colourful universe.
"I developed my concept around one creation from the Japanese designer, a dress from the Fall 2019 Ready-to-Wear Collection. I decided to play with textures, lines, shapes and contrasts; with the formal and the informal, the quirky and the elegant, the traditional and the innovative, to bring the Japanese and French influences of the collection to an Australian setting."
Paintings by Tomokazu Matsuyama.
Louise Mackay / Honorable Mention
Hotel design by Louise and the collaborative team of Celine Layoun and Tianna Andrews, as described by Louise: "A vibrant, playfully creative design for SiR Hotels based on our concept of Alter Ego: One Hotel. Two Personalities. The new persona for the Woolloomooloo site will be reflective of the vibrant, creative spirit of the city – inspired by our neighbouring Mardi Gras, the queen of the desert, and the playfully creative vibe of drag culture."
"On arrival at SiR Queen, guests will enter an unassuming building to come across a flurry of colour, glamour and stunning finishes to inspire their alter ego journey. A sophisticated mix of high chroma and neutral tones will create a playful, feminine mood."
Read more about this inspiring hotel design project here.